There are many unusual and interesting ways to scatter ashes, but one method is out of this world. A U.S. company called Mesoloft will transport cremation ashes via weather balloon to the outer limits of the Earth's atmosphere and release them so they will slowly return to the Earth over time. Below is everything you need to know about this unique technology.
What is Mesoloft?
Mesoloft is a U.S. company that uses weather balloons to transport your loved one's ashes to the edge of space. The ashes are attached to the balloon and lifted almost 15 miles (24 km) above the planet, where they are released. They remain scattered in the atmosphere for some time and then slowly return to the Earth. Some can remain airborne, incorporate into clouds, eventually become raindrops or snowflakes.
Mesoloft is a Kentucky-based company founded in 2014 by a four-person team including Entrepreneur Chris Winfield, Alex Clements, Mechanical engineer and Head of Operations, Alan Beaven, Lead Aerospace Engineer, and Chris Mitchell, Lead Software and Electrical Engineer.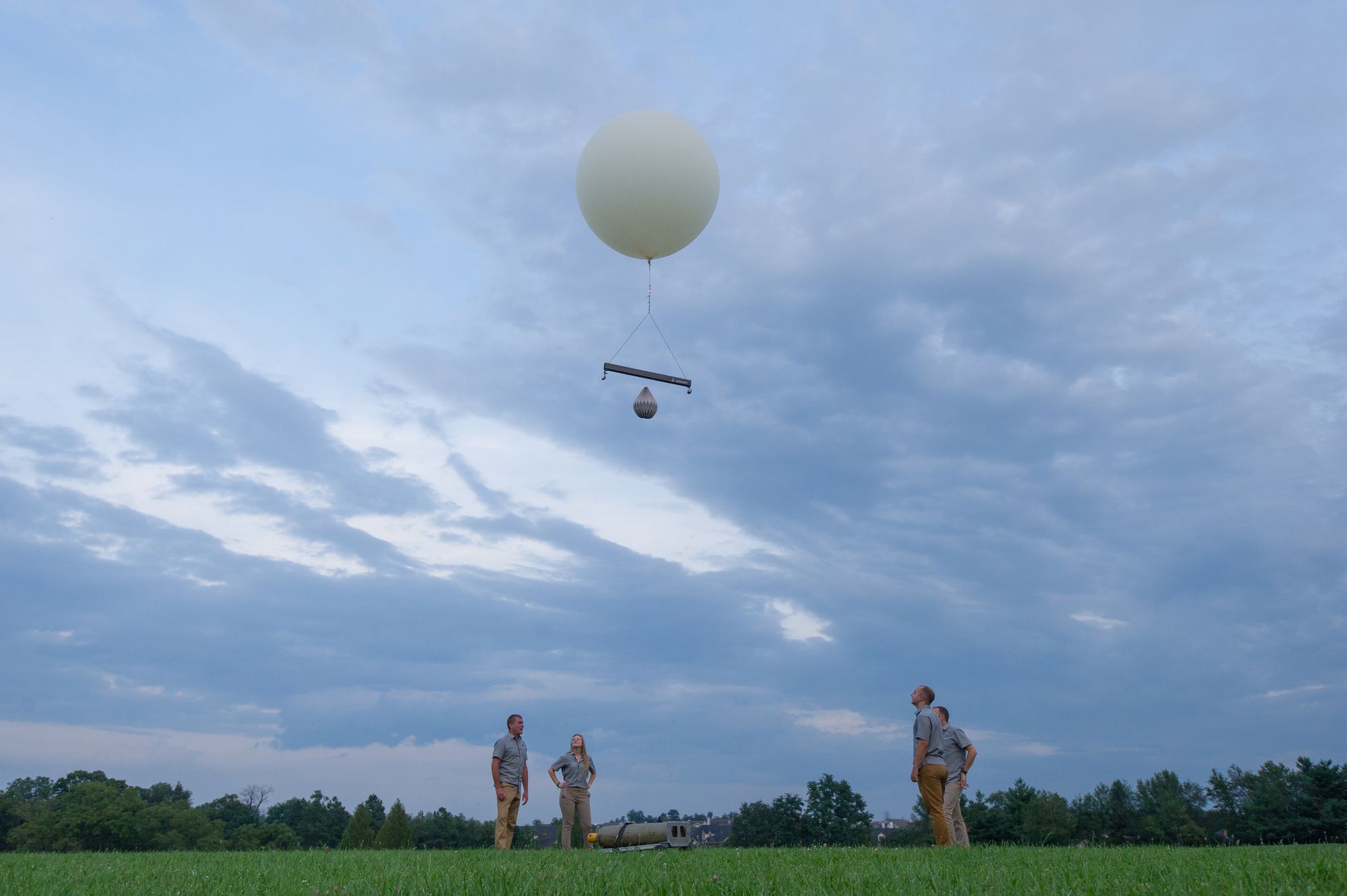 According to Winfield, the idea was sparked from a conversation about volcanic ash and dust, which can rise and become suspended in the atmosphere. His team wondered if that would be possible with human ashes as well.
Mesoloft's founders used to work for Kentucky Space, handling space-related projects and educational programs for children involving weather balloons. The conversation sparked a desire to do something new.
In 2017, the team announced a new addition to the experience. They attached a 360-degree camera to capture the balloon's journey. This allows a family to watch as the balloon gently lifts their loved one's ashes into the atmosphere before they are released. Customers also receive a cardboard headset so they can watch the video in virtual reality.
Mesoloft conducts several launches in different parts of the U.S. each year. The most recent launch in 2021 was from Albuquerque, New Mexico. More launches are pending in 2022.
How does Mesoloft work?
The Mesoloft technology uses natural atmospheric conditions to allow cremated remains to travel the world and slowly return to the Earth over time.
The process begins by putting the ashes (3 to 8 lbs worth) in a container with a trap door and attaching it to the weather balloon, along with two GoPro cameras and three GPS tracking systems. Weather balloons are made of latex or synthetic rubber (neoprene) and filled with hydrogen or helium, which allows them to float into the atmosphere.
Once the balloon is prepared and launched, it soars to reach approximately 15 miles (24 km) above the Earth, into the upper end of the stratosphere, near the mesosphere (called near space).
When the balloon reaches 80,000 feet (24,383 metres), a small robot triggers the release of the cremated remains through a trap door. The ashes fall to the next layer of the atmosphere, where they travel with atmospheric winds.
The ashes remain airborne in the wind, and it can take many months for all of the ashes to return to the Earth. Some will settle on land or sea across the globe, while others may pass through clouds. As the ash passes through clouds, it can attract water vapour deposition and increase in size, eventually helping to form water droplets, which will return to the Earth as rain or snow.
After release, the balloon begins its descent via parachute for about 90 minutes. The team uses GPS systems and cameras to track the descent. Once it lands, they recover the balloon and the video that has been recorded for the customer. The GPS provides a real-time location during the ascent and descent that can be shared with customers if they choose.
See a video of a launch, release and landing here: https://www.youtube.com/watch?v=NXCH6rnscCI
How much does the Mesoloft experience cost?
There are three Mesoloft packages available ranging from  $7,500-$12,500 USD  ($9442-$15,737 CAD), according to the Mesoloft pricing page. Details are below.
Whether you're arranging for yourself or someone else, your peace of mind is our priority.
Standard Launch Package
The Standard Launch Package costs $7,500 USD ($9441.94 CAD) and can carry up to 3 lbs (1.36 kg) of ashes. (See weight of cremation ashes calculator.) It launches from a designated site in the U.S. The package includes the following services:
Launch and release of ashes at 75,000 feet (22,900 metres) or higher
Full video of the entire trip from launch to landing can be delivered via USB drive or DVD (customer's preference).
Two-minute edited video of the launch, release of ashes, and the descent of the balloon. This video can be provided via USB drive, DVD, or hosted on Mesoloft's YouTube page for easy social sharing.
Livestream of the launch of the balloon. This will be viewable via a shareable YouTube link.
Return of the shroud in which your loved one's ashes will be carried to the edge of the atmosphere.
Memorial Launch Package
This package costs $8,500 USD ($10,701 CAD) and carries a maximum of 8 lbs (3.6 kg) of ashes. It launches from a designated site in the U.S. and includes all services in the Standard Launch Package as well as the following add-ons:
Commemorative photo album with select still photos from the launch, flight, and recovery.
Personalized two to three minute video that can include pictures or videos provided by the customer. The video can be provided via USB drive, DVD, or hosted on Mesoloft's YouTube page for easy social sharing.
Blog post on Mesoloft's website written from an interview conducted with Mesoloft's staff writer.
Mesoloft's Destination Package
This is the most expensive package, starting at $12,500 USD ($15,737 CAD). It offers the most customizable of the three available packages. The ashes are also launched from a location of the customer choosing (additional travel fees may apply). The package includes:
Launch and release of ashes at 75,000 feet (22,900 metres) or higher.
Full video of the entire event from launch to landing.
Commemorative book with images and digital drive with video.
A memorial story about the deceased person in Mesoloft's blog, written by a staff writer.
Return of the shroud that was used in the launch.
Additional photographer and/or videographer.
To get started with this package, you must contact the team to discuss details. The other two packages are available for purchase on the site. The website accepts major credit cards and PayPal. A deposit of 50 per cent is due when booking, with the remaining due before shipping the package. If the video cannot be recovered, the team will return the customer's deposit.
Are Mesoloft's launches available in Canada and the United States?
The packages are available to customers within the U.S. or in Canada as well as other countries. In some cases, you can witness the launch in person. Nonetheless, a video is provided to families afterwards so they can see the balloon's launch after the fact too.
The destination package's availability will vary depending on local rules and regulations. It is also subject to geographical limitations. For example, launching over challenging terrain such as the Himalayas may result in additional recovery costs. Added travel costs for the launch team would also apply.
Within the United States, Mesoloft can launch from almost any location except for a few FAA-restricted areas. We have reached out to determine availability for a destination launch in Canada and will update this article when we receive the response.

Since laws in Canada allow for scattering on almost all public land, it is likely that a launch over Canada may be possible. (This will be clarified in a future update of this article.) See our article on general ash scattering rules in Canada.  Canadians can also travel to a U.S.-based launch, should they wish.
Whether you're arranging for yourself or someone else, your peace of mind is our priority.
What else can you do with ashes?
There are many other ways to memorialize your loved one. Here are a few ideas on what can be done with ashes:
Eirene and Mesoloft
Eirene Cremations is a Canadian affiliate registered with Mesoloft and can coordinate the launch of ashes for its customers. Contact us for more details. To make cremation arrangements, click here. For information about our service areas please visit our locations page.
Image credits: Courtesy of Mesoloft