Eirene Cremations is pleased to announce that we have expanded operations for the second time this year, providing a new, affordable approach to cremation and alkaline hydrolysis (also referred to by Eirene as Aquamation) services for families in Saskatchewan.

We offer a modern approach to funeral arrangements that focuses on honesty, compassion, and fair pricing. At Eirene, the entire arrangement process can be completed from home, so you can focus your time on being with family and friends after a loss. Once the cremation is complete, the remains are returned to the next of kin or executor with the required paperwork to settle the estate.

As of 2022, 68% of families in Saskatchewan chose cremation as a method of final disposition. Across Canada, cremation has become the preferred end-of-life option for families because it allows for flexibility and simplicity during a difficult time. At Eirene, we address the fundamental needs of the cremation or alkaline hydrolysis without the expense of a viewing, wake, or visitation. This allows families to plan a unique memorial service or celebration of life at their own pace.
Meeting Saskatchewanians where they are
Eirene's website allows families to arrange a cremation without an in-person visit to a funeral home. Our exceptional team are available 24/7 by phone, live chat or email to help you through the arrangement process. However, in-person arrangements are available upon request at our office in Regina, if families wish.

Eirene's operations in Saskatchewan are led by funeral director Jan Porten, a native and resident of Regina.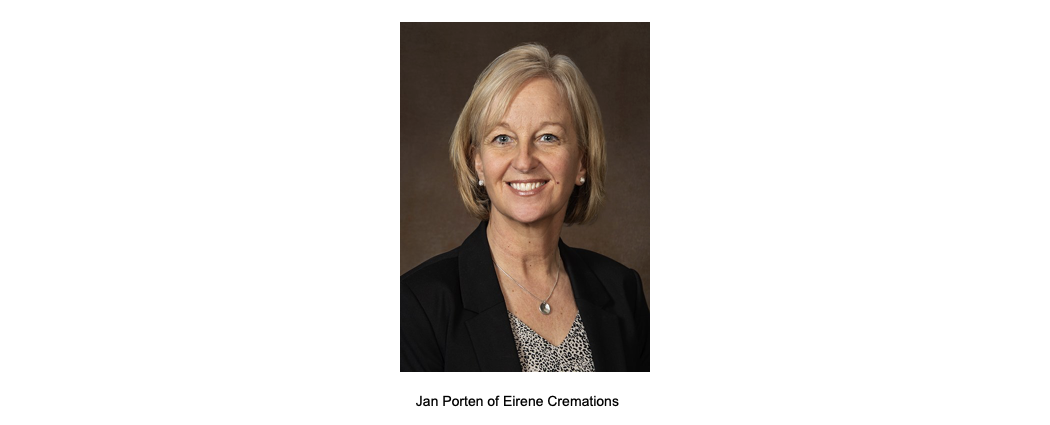 Jan is passionate about caring for others and helping families navigate one of the most challenging situations we experience.
From the moment you contact us, through to the delivery of the remains, she will be there to support you.

I recognize that making final arrangements for a loved one, is something that someone may only do a handful of times. My sincere goal is to provide support that will allow some of the stress to be taken away from families during this time, says Porten. Families' needs are changing, some are not near in proximity to each other to make in-person arrangements, or it might feel more comforting to make the arrangements in the comfort of their own homes. Regardless of each family's unique needs, our goal is to give them the peace of mind they deserve during an incredibly difficult time.
How Eirene Works:
All-inclusive pricing
The average cremation in Canada can cost up to $5,000 at a traditional funeral home. In contrast, our packages were created to reduce financial stress on grieving families while providing the comfort of knowing we have the highest standards of care. We offer two packages, suited to your needs, and the price you see is exactly what you'll pay— no surprises. Our transparent pricing structure is meant to give you the assurance that you only pay for the services you need. Detailed pricing can be seen here.

If you require financial assistance, you have a few options. We will first work with you to determine if you qualify for federal, provincial or social assistance funding. We have also partnered with Affirm payments to offer instalment payments. If you are not eligible for Affirm's payment plan, we will work with you one-on-one to determine a payment plan suitable to your needs.
Whether you're arranging for yourself or someone else, your peace of mind is our priority.
Arrange from anywhere
At Eirene, our cremation arrangement service allows you to make arrangements online or over the phone, regardless of your location. We ask you a few questions, ensure your payment is secure, and our licensed funeral directors will take care of the rest. This can all be done from the comfort of your own home, without trips to a funeral home. Once the required details are provided, we work with our local transfer partner to bring your loved one into our care, to our sheltering facility in Regina.

Our licensed funeral director completes the required paperwork and the cremation takes place. Once the cremation is complete, your loved one is returned to you personally by our funeral director. You can also select an urn from our catalogue or online store, if you wish, where we have a vast selection of urns, jewelry and keepsakes available.
Supporting families in Saskatchewan when they need it most
It is our honour to provide an alternative to traditional in-person funeral arrangements in Saskatchewan. Choosing Eirene gives you and your loved ones peace of mind knowing that your loved one will be cared for with integrity and compassion throughout the entire process, and that we have your best interest at heart.
About Eirene
Eirene is a Canadian-founded, women-owned and operated, and proudly-independent business. We launched in Ontario in 2020, and Nova Scotia earlier this year. Saskatchewan is the third province where our services will be offered to families. We have been featured in the New York Times, Toronto Star and Saltwire.

Eirene is here to help support families when they need it most. We are available 24/7 via email or phone. To make arrangements, visit our website at https://eirene.ca. You can also send us an email at support@eirene.ca.

What is Eirene?
Eirene is Canada's first online cremation arrangement service. Eirene was founded to provide Canadians with a simple, compassionate, and modern approach to funeral services. With 73.1% of Canadians opting for cremation each year, Eirene's goal is to be a trusted partner that simplifies the arrangement process and provides families with peace of mind.

Our modern cremation arrangement process gives families more time to focus on what really matters immediately after losing a loved one.

Making arrangements with Eirene allows you to:
Take the time you need to process your loss, in whatever way you need
Bring family members home who live away
Reduce stress, pressured decisions, and family disagreements
Ability to create on your own the celebration your loved one would want— no matter what that might be; a favourite restaurant, gathering a beach, in a park, on the golf course or ocean
Eliminate the need for multiple in-person appointments at a funeral home
We're committed to honest pricing. We don't charge extra for mileage, device removals or crematorium fees.
Where did the name Eirene originate?
The word Eirene means a state of peace, originating from the Greek goddess Eirene. We chose the name because it reflects the service we want to provide to our families. Eirene also symbolizes the role many women play in arranging end-of-life services and the growing diversity in the end-of-life industry.

What our families say
I was in panic after my father became sick suddenly and I needed to make all arrangements for his passing. I had called, emailed other places and they did not pick up the phone or message back for a week. I called Eirene, they picked up the phone immediately and not only that, they were compassionate and understanding.

There is enough stress during a time of sorrow, Eirene eases one less stress. Thank you for the care and respect you showed my Father and I. — April Mansilla
Where does the cremation take place?
The crematoriums we work with are local, trusted partners. This ensures that your loved one is never far from home, and that families who make arrangements with Eirene will receive the highest quality care from licensed professionals in their communities.
How will Eirene ensure standards of care?
Transparency is paramount, and we go above and beyond the required government guidelines to ensure the continuous, identification of your loved one throughout our entire process.

Before cremation takes place pursuant to the written authorization from the Authorized Decision Maker, (ADM) we will make arrangements to identify in person, or we will take a photo of the deceased and will require written confirmation from the Authorized Decision Maker confirming identification. The coroner is also able to make the identification in place of the ADM. This, along with information provided by you, the family, preserves your trust in us during each part of the process, from the time your loved one comes into our care, to the time they are returned home.

Second, we use an industry accepted Chain of identification document, which is signed and verified by the funeral director throughout the time your loved one is in our care. And, third, you have the ability to view your loved one prior to cremation, as well as the option to witness the cremation if you wish.

Our preferred partners have been involved in the industry for more than 25 years, in multiple provinces. They are in good standing with all regulatory bodies, and hold licenses issued by The Funeral and Cremation Services Council of Saskatchewan.
How can you charge less than the industry standard?
By streamlining the process, and working with trusted transportation and crematorium partners in Saskatchewan, we are able to minimize our overhead and pass on those savings to our families when they need it most.